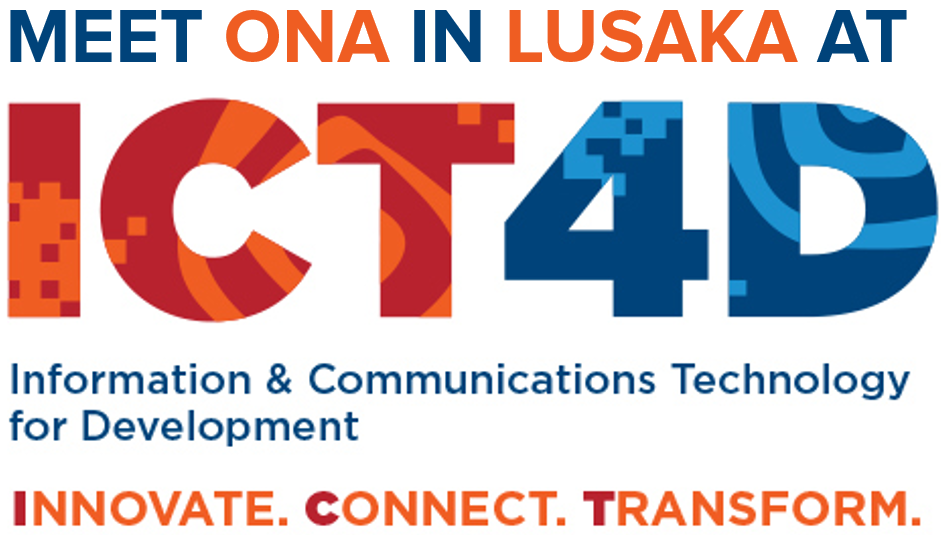 We are excited to announce that Ona will be at the ICT4D Conference in Lusaka from May 8–10, 2018. We will be represented by our CEO, Matt Berg, Director of Client Solutions, Erick Ngwiri, and Health Solutions Lead, Carolyn Gulas.
Visit us at the exhibition area at the Mulungushi International Conference Center (MICC) in Lusaka to learn more about our industry leading data collection platform, Ona, and the open source mHealth platform we support, OpenSRP. You can also learn more about of our latest offering, Canopy, an enterprise analytics solution designed to meet the specific needs of humanitarian and development groups.
Learn directly from our team how Ona works with humanitarian, government, and UN organizations all over the world to address some of the world's great challenges through our end-to-end data solutions. Email us now to schedule a one-on-one discussion around your specific needs or to book a dedicated demo of any of our tools.
Continue reading Meet Ona at ICT4D 2018 in Lusaka, Zambia...