New Ona Pricing Plans Starting March 1
We are introducing new pricing plans that are effective March 1. Since launching pricing plans in 2015, we've seen exciting growth and have responded to feedback by building features like better charts and mapping, an online form builder, integrations, etc. We've also used this time to review our pricing plans with the goal of providing maximum value while charging a fair price that allows us to continue improving.
Here are the new plans: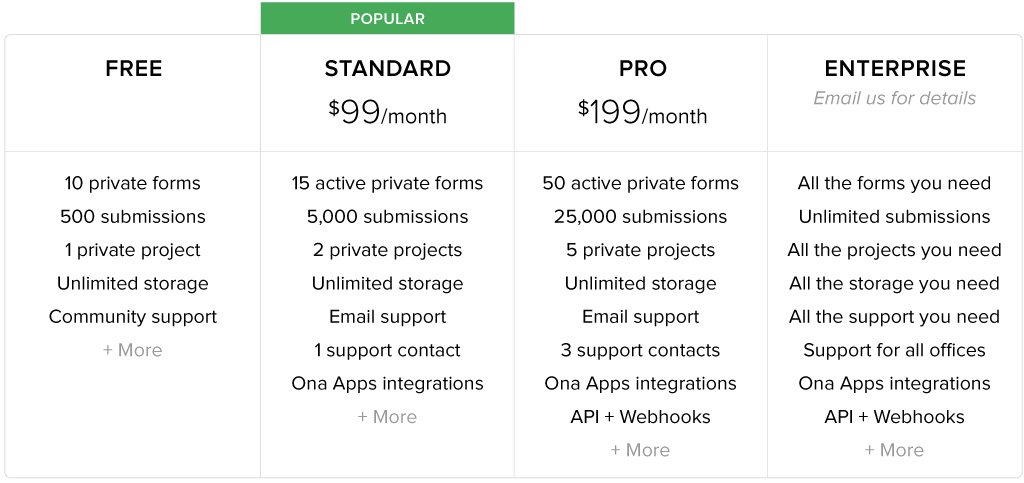 A key change we made on was providing more features on the Standard Plan. Filtered datasets and useful integrations with Google Sheets, RapidPro, and soon, Tableau, are now available on the $99/month plan. Another change is counting only active forms (forms set to receive data) and not total forms against limits on paid plans. We want everyone to collect, analyze, and share data on one platform and not have to worry about moving data elsewhere.
New sign ups will be on the new Free Plan, which provides 1 private project, 10 total private forms, and 500 private form submissions per calendar month. The Free Plan for organization accounts allows 3 organization members as well as unlimited public projects, forms, and submissions. Full plan details can be found on the plans page.
If you'd like to upgrade or have questions, just send an email to sales@ona.io.