A New Client for Smartphones: Ona Collect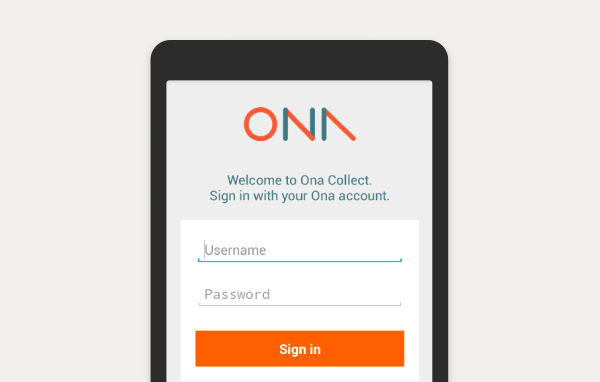 Today we are announcing the launch of Ona Collect, a tweaked version of ODK Collect created especially for Ona users. This new mobile client is a baby step into building a seamless experience for our users, starting with a few small improvements.
Developing Ona Collect
ODK Collect is a popular mobile client tool used by hundreds of thousands of people around the world. The initial version of Ona Collect builds off of this proven and valuable tool by lowering the threshold for setting up a client on Android devices. The most immediate thing you'll notice is how similar Ona Collect is to its ODK counterpart — we wanted to keep it familiar to everyone who has been using ODK Collect. The only difference on the main screen is information on the signed-in user: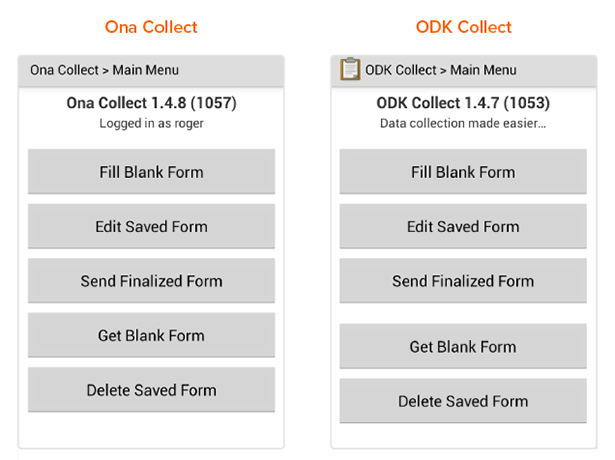 Signing in
Setting up Ona Collect is simple — we removed the requirement to set up a server URL in ODK Collect. Simply sign in to Ona Collect with your Ona credentials to access your forms.
Shared forms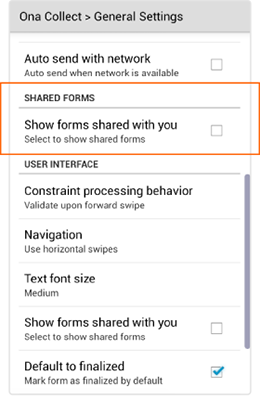 An innovation we've introduced in Ona is making it easier for users to share forms with other users. To reflect this in Ona Collect, we've added a checkbox that allows you to show or hide forms shared with you. This setting is located in General Settings.
Authenticating with Ona accounts
In this initial release, Ona Collect requires an Ona login, meaning users must login before accessing forms or submitting data. We feel strongly about authentication because it means your forms and data are secure while also providing the benefit of seeing who has submitted each record. However, ODK Collect must be used if you are still using the older process of using non-authenticated forms.
This is just the beginning for Ona Collect. In the near future, we want to improve the client experience when forms are updated and explore how forms show up from different projects. Head over to the Google Play Store to try out Ona Collect on any Android device. Let us know if this seems useful and ideas about what else you'd like to see in Ona Collect by emailing support@ona.io.