Ona This Month December 2016 Newsletter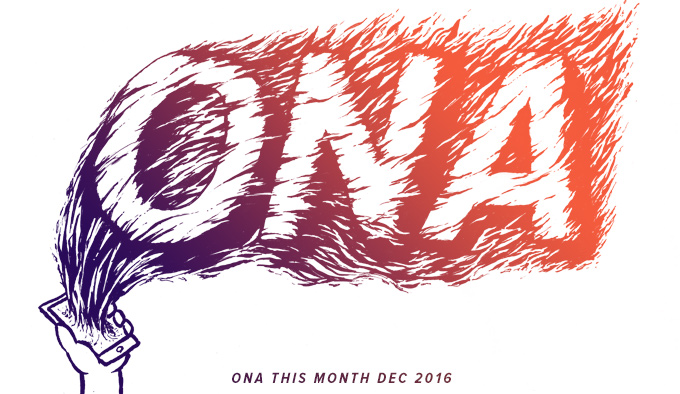 What's new?
Fine-tune data access permissions on projects
The fine-tuned data access permissions for Can Submit and Can Edit roles we mentioned in the October newsletter are live. Previously, Can Submit and Can Edit users had access to all project data. Now, project admins can choose to restrict data access for those users — either by granting access to only the data each individual user has submitted, or completely hiding data from Can Submit users. Hiding all data is something you may do for enumerators. These permission options are set at the form level. You can find them in Form Settings ⇒ Permission Restrictions, or read the permission restrictions help article. Here's what the new options look like: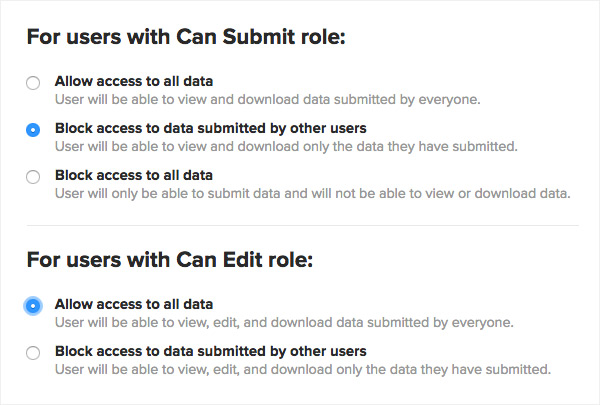 Upload a CSV dataset that automatically generates an XLSForm
We've added the ability to import a CSV dataset into Ona without having to create a predefined form. With this feature Ona automatically creates an XLSForm based on your data. The uploaded dataset acts like a normal Ona form, meaning you can visualize, edit, and add new submissions to the data. Ona Help has a new article to guide you through uploading your first CSV dataset.
For detailed information on the latest updates and bug fixes, please visit our Release Notes.
Coming soon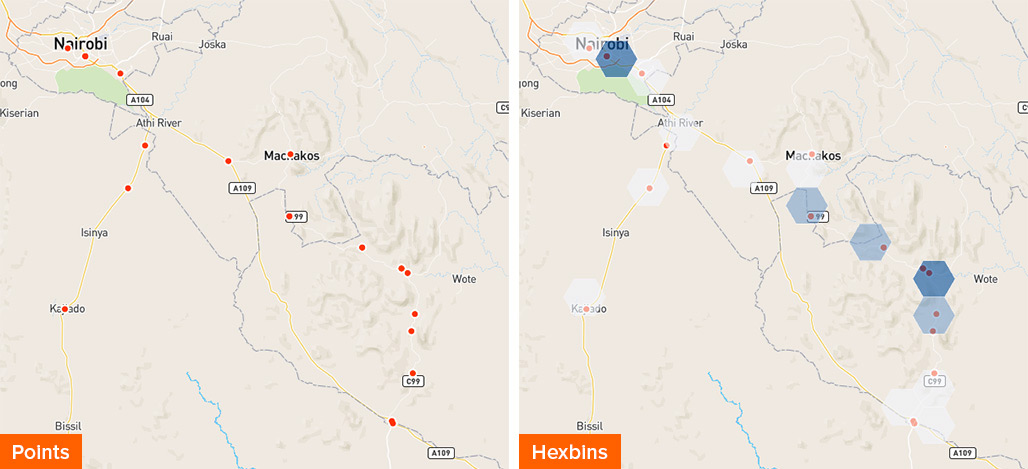 Hexbins and heatmap visualizations
To help you visualize large datasets on maps we'll soon be adding hexbin and heatmap visualizations. Points work well for small datasets, but a large number of submissions can cause overlapping points, which misrepresent the data and make it difficult to see geospatial trends. Hexbins and heatmaps solve that problem through binning — combining points into less discrete groups — and showing density with the resulting geospatial shapes. Hexbins and heatmaps will be out before the end of the year.
Newsworthy
Help us make Ona better for you! We're running a short survey to get to know how satisfied you are with the work we do. We value your feedback. Take the 3 minute survey.
UNICEF Innovation Fund invested in OpenSRP as one of their inaugural technology investments. Matt, our CEO, expressed his appreciation and reflected on the OpenSRP community in a recent blog post.
Barbara, Support Assistant at Ona, explained how to make forms multilingual in Ona. If you plan to do a survey in multiple areas where different languages are spoken, this short read is perfect for you.
Mannequin challenge accepted! We took some time off to join in on the mannequin craze. Meet the team behind the Ona platform in our mannequin challenge video on YouTube.